---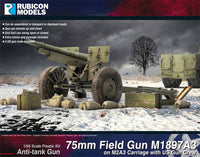 The 75mm Field Gun M1897 on M2 Carriage was a field gun and anti-tank gun which was used by the US Army during the interwar period and World War II. Originally of French design, the Canon de 75 modèle 1897 was supplied to the United States in large numbers and became the standard field gun for the US Army during World War I. In US service the mle 1897 was given the designation 75mm Gun M1897.
In 1932, a modified gun known as the M2 was standardized for limited production. It took advantage of new projectiles and developments in high explosives. Existing box trail 75mm gun carriages were given sprung axles, steel wheels, and pneumatic tires to allow them to be towed behind vehicles at higher speeds. On January 18, 1934, the conversion kit for existing guns was standardized, and modernized guns were given the designations "75mm Field Gun M1897A1" through "75mm Field Gun M1897A4". Modernization of 75mm guns also involved placing M1897 guns on new M2A1 carriages. Production of the M2A2 carriage began in 1936, but the conversion process was slow.
After the defeat of France by Nazi Germany in the spring of 1940, The Army became worried about its lack of modern antitank guns. In July 1940, a simplified and improved carriage with retractable crescent-shaped jacks known as the M2A3 was introduced, and it was decided to mount M1897 guns on both M2A2 and M2A3 carriages and equip them with direct-fire sights so they could be used as anti-tank guns. These guns were issued to both field artillery and anti-tank units.
In 1941, field artillery units began converting to the new 105mm M2 Howitzer, and some M1897s were removed from their towed carriages and installed on the half-track M3 Gun Motor Carriage (GMC). The towed version and the M3 GMC was used by American Tank Destroyer battalions during operations in the North African and Italian campaigns. M3 GMCs were also used in the Pacific theater during the Philippines campaign and by Marine Regimental Weapons Companies until 1944. Their performance in an anti-tank role was adequate against Japanese and Italian armor but inadequate against late war German armor. M3 GMCs remained in use with the British in Italy and North West Europe in small numbers until the end of the war. Towed guns were also used for training and on March 8, 1945, they were declared obsolete and retired. In total, 1,250 units were produced.
Product Highlights:
- Can be assembled in transport or deployed mode
- Gun can elevate up and down
- Gun trail can swing open or closed
- Extra ammo and stowage included
- 3 US gun crew included
Product Code: 280127
No of Parts: 60 pieces / 2 sprues