---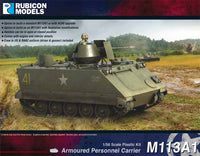 The M113 is a fully tracked armored personnel carrier (APC) that was developed and produced by the FMC Corporation. The M113 was sent to United States Army Europe in 1961 to replace the mechanized infantry's M59 APCs. The M113 was first used in combat in April 1962 after the United States provided the South Vietnamese Army (ARVN) with heavy weaponry such as the M113, under the Military Assistance Command, Vietnam (MACV) program. Eventually, the M113 was the most widely used armored vehicle of the US Army in the Vietnam War and was used to break through heavy thickets in the midst of the jungle to attack and overrun enemy positions. It was largely known as an "APC" or an "ACAV" (armored cavalry assault vehicle) by the allied forces.
The M113 was the first aluminum hull combat vehicle to be put into mass production. Much lighter than earlier similar vehicles, its aluminum armor was designed to be thick enough to protect the crew and passengers against small arms fire, but light enough that the vehicle was air transportable and moderately amphibious.
In the US Army, the M113 series have long been replaced as front-line combat vehicles by the M2 and M3 Bradleys, but large numbers are still used in support roles such as armored ambulance, mortar carrier, engineer vehicle, and command vehicle. The US Army's heavy brigade combat teams are equipped with approximately 6,000 M113s and 4,000 Bradleys.
The M113's versatility spawned a wide variety of adaptations that live on worldwide and in US service. These variants together currently represent about half of US Army armored vehicles. To date, it is estimated that over 80,000 vehicles in the M113 family have been produced and used by over 50 countries worldwide; making it one of the most widely used armored fighting vehicles of all time. M113 production was terminated in 2007 to be replaced by a turretless variant of the Bradley Fighting Vehicle.
Product Highlights:
- Option to build a standard M113A1 or with ACAV upgrade
- Option to build as an M113A1 with Australian modifications
- Hatches can be in open or closed position
- Comes with engine and interior details
- Crew in US & RAAC uniform (driver & gunner) included
Product Code: 280134
Number of Parts: 173 pieces / 4 sprues
The M39 series was the primary heavy truck of the US Army and US Marine forces during the Vietnam War, and was also used by the US Navy, US Air Force, and ARVN forces.
The M39 Series began to be replaced by the M809 series in 1970, followed by the M939 series in 1982, but continues to serve in other nations' armed forces around the world.
The M39 series were originally powered by a Continental R6602 engine. The -A1 upgrade had a Mack ENDT-673 turbocharged inline 6 cylinder diesel engine. The -A2 upgrade had a Continental LDS-465-1A turbocharged inline 6 cylinder multi-fuel engine. Gas engine models have a down-swept exhaust exiting from under the body just ahead of the right-hand front set of rear wheels. Diesel (-A1) and multi-fuel (-A2) models have a vertical exhaust stack and air cleaner on the right fender, however a very small number of the earliest -A1 models and some -A2 gas/multi-fuel conversions are seen with same style of down-swept exhaust as on gas models. Of important note, A2's with a factory build date prior 1964 originally were gas engine models.
The M54 was the standard cargo version of the series. It had a 7 ft (2.1m) × 14 ft (4.3m) low-sided box with a bottom-hinged tailgate. Side racks, troop seats, and overhead bows with a canvas cover were standard. A front-mounted winch was optional. The standard body sides could secure a load but could not be loaded from the side by forklifts, so a body with drop sides was standardized as the M54A1C.  A standard military cab was used. It had hinged doors with roll-up windows, a folding windshield, and a removable canvas roof. Cargo trucks could be fitted with a ring mount for a M2 Browning machine gun. A hard roof could be fitted as well.
Product Highlights:
- Cabin with canvas roof or hard top option
- Optional M2HB HMG with ring mount
- Seat bench can be in deployed or folded position
- Rear tailgate can be in open or closed position
- Optional tarpaulin top included
- Driver in US Army or USMC uniform included
Product Code: 280133
Number of Parts: 101 pieces / 3 sprues + 1 slide-mould cabin