---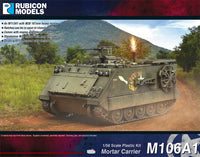 The M113 is a fully tracked armored personnel carrier (APC) that was developed and produced by the FMC Corporation. The M113 was sent to United States Army Europe in 1961 to replace the mechanized infantry's M59 APCs. The M113 was first used in combat in April 1962 after the United States provided the South Vietnamese Army (ARVN) with heavy weaponry such as the M113, under the Military Assistance Command, Vietnam (MACV) program. Eventually, the M113 was the most widely used armored vehicle of the US Army in the Vietnam War and was used to break through heavy thickets in the midst of the jungle to attack and overrun enemy positions. It was largely known as an "APC" or an "ACAV" (armored cavalry assault vehicle) by the allied forces.
The M113 was the first aluminum hull combat vehicle to be put into mass production. Much lighter than earlier similar vehicles, its aluminum armor was designed to be thick enough to protect the crew and passengers against small arms fire, but light enough that the vehicle was air transportable and moderately amphibious.
In the US Army, the M113 series have long been replaced as front-line combat vehicles by the M2 and M3 Bradleys, but large numbers are still used in support roles such as armored ambulance, mortar carrier, engineer vehicle, and command vehicle. The US Army's heavy brigade combat teams are equipped with approximately 6,000 M113s and 4,000 Bradleys.
The M113's versatility spawned a wide variety of adaptations that live on worldwide and in US service. These variants together currently represent about half of US Army armored vehicles. To date, it is estimated that over 80,000 vehicles in the M113 family have been produced and used by over 50 countries worldwide; making it one of the most widely used armored fighting vehicles of all time. M113 production was terminated in 2007 to be replaced by a turretless variant of the Bradley Fighting Vehicle.
The M106A1 is a mortar carrier armed with an M30 mortar 106.7mm (4.2-inch, or "Four-deuce") mounted on a turntable in the rear troop compartment. On this variant, the single hatch over the rear troop compartment was exchanged for a three-part circular hatch. The mortar could be fired from the vehicle, but could also be fired dismounted.
Product Highlights:
- An M113A1 with M30 107mm heavy mortar
- Hatches can be in open or closed position
- Comes with engine and interior details
- Standalone M30 mortar with crew included
- Driver with fire support crew included
Product Code: 280135
Number of Parts: 191 pieces / 4 sprues