---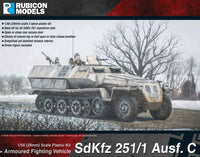 The SdKfz 251 (Sonderkraftfahrzeug 251) half-track was an armoured fighting vehicle designed and first built by the Hanomag Company during World War II.  Used by the Wehrmacht, the SdKfz 251 was designed to transport the panzergrenadiers of the German mechanized infantry corps into battle.  SdKfz 251s were the most widely produced German half-tracks of the war, with at least 15,252 vehicles and variants produced by various manufacturers, and were commonly referred to simply as "Hanomags" by both German and Allied soldiers.
There were four main model modifications (Ausführung A through D), which formed the basis for at least 22 variants.  The initial idea was for a vehicle that could be used to transport a single squad of panzergrenadiers to the battlefield protected from enemy small arms fire, and with some protection from artillery fire.  In addition, the standard mounting of at least one MG34 or MG42 machine gun allowed the vehicle to provide support by fire for the infantry squad once they had disembarked in battle.
Variants were produced for specialized purposes, including with anti-aircraft guns, light howitzers, anti-tank guns and mortars or even large unguided artillery rockets.
The C model, which started production in mid-1942, featured a simplified hexagonal-shaped forward armoured plate for the engine.  Models A through C had rear doors that bulged out.  The C model had a large production run, but was quite complex to build, involving many angled plates that gave reasonable protection from small arms fire.
This highly detailed plastic kit depicts an SdKfz 251 Ausf C version.  It comes with two machine gun choices; open or close rear access door, and a half open or fully closed canvas top (tarp) option.

Product Highlight:
- Base kit for all SdKfz 251 expansion sets
- MG34 or MG42 machine gun choice
- Open or close rear access door
- Choice of canvas top in half open or fully closed position
- Simplified yet detailed chassis interior
- Driver figure included

Product Code 280031
Number of Parts: -- pieces / 2 sprues