---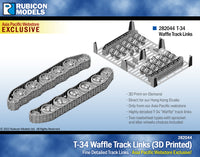 A pair of track link for T-34 with all round track details, both rubber and steel Wheels are included. Compatible with our T-34/76 - Early & Mid War (280013) & T-34/85 - Mid & Late War (280021).

Tanks are sold separately and not included.
This is a 3D printed product. Please use cyanoacrylate adhesives for assembly. 
Alternatively, you go go visit our Shapeways store for an one piece version of each waffle track links: