---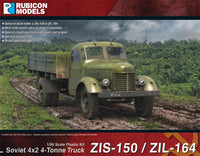 The ZIS-150 was a Soviet truck. In 1947 it replaced the ZIS-5 truck on the assembly line. Together with the GAZ-51 it was the main Soviet truck during the 1950s, judging by their quantity. A tractor-trailer version of the ZIS-150, the ZIS-120N was sold from 1956 to 1957. In 1957, the base ZIS-150 model was replaced by ZIL-164, which differed outwardly only by vertical grille bars and bumper.
The first prototype was built in 1945 and entered the test stage some months later, however, its engine proved to be rather unreliable, so a newer engine was developed, and another prototype was built in 1946, which passed the prototype stage. The first production batch of these trucks was built in 1947, but mass-production did not start until 1948. Nevertheless, despite production of the ZIS-150 starting, the older ZIS-5 truck was produced until 1956.
The ZIS-150 also started getting produced in Georgia, by the KAZ plant. Production of the truck soon started in other Communist countries, such as Romania between 1954 and 1960 under the SR-101 "Steagul Rosu" (Red Flag) name, in China at the First Automobile Works under the Jiefang CA-10 name, and a prototype was also built in North Korea under the name Chollima, but did not enter production.
In 1956 the ZiS factories were modernized and renamed to ZiL, due to De-Stalinization, and the truck was renamed to ZIL-150. In 1958 the truck's production ended and the model was replaced by the ZIL-164. Production in China continued until 1986. A total of 2,056,117 were produced between 1947 and 1986 from all sources.
Product Highlights:
- Option to build either a ZIS-150 or ZIL-164
- Multi-slide mould cabin for ease-of-assembly
- Open or closed rear trunk side panels and tailgate
- Optional tarpaulin top
- Driver figure included
Product Code: 280132
Number of Parts: 70 pieces / 2 sprues + 1 slide-mould cabin
The PT-76 was used as the standard reconnaissance tank of the Soviet Union and Warsaw Pact armies. It was also intended for water obstacle fording operations and naval infantry landings. It served in the reconnaissance subunits of tank divisions and mechanized divisions of the Red Army and Soviet marines divisions. Although it has been replaced in front line service by the BMP-1, it may still be found in the reconnaissance companies and battalions of some motorized rifle and tank regiments and divisions, as well as in naval infantry units. Aside from its reconnaissance role, it is also used for crossing water obstacles in the first wave of an attack and for artillery support during the establishment of a beachhead. The PT-76 is still on active service in a number of countries mainly in the developing world.
Product Highlights:
- Option to build either a PT-76 or PT-76B with waterline option
- Choice of two muzzle brakes & optional DShK 1938 HMG
- Open or closed crew hatches & rear hydro jet outlet lids
- Trim board in extended or stowed position
- Highly detailed track links
- Tank crew included
Product Code: 280129
Number of Parts: 120 pieces / 3 sprues