---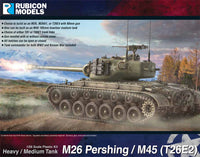 The M26 Pershing was a heavy tank / medium tank of the United States Army.  The tank was named after General John J Pershing, who led the American Expeditionary Force in Europe in World War I.  It was used in the last months of World War II during the Invasion of Germany and extensively during the Korean War.
The M26 was intended as a replacement of the M4 Sherman, but a prolonged development period meant that only a small number saw combat in Europe.  Based on the criteria of firepower, mobility, and protection, US historian R P Hunnicutt ranked the Pershing behind the German Tiger II heavy tank, but ahead of the Tiger I heavy and Panther medium tanks.  It was withdrawn in 1951 in favor of its improved derivative, the M46 Patton, which had a more powerful and reliable engine and advanced suspension.  The lineage of the M26 continued with the M47 Patton, and was reflected in the new designs of the later M48 Patton and M60 Patton.
The M26 was the culmination of a series of medium tank prototypes that began with the T20 in 1942, and it was a significant design departure from the previous line of US Army tanks that had ended with the M4 Sherman.  Several design features were tested in the prototypes.  Some of these were experimental dead-ends, but many become permanent characteristics of subsequent US Army tanks.  The prototype series began as a medium tank upgrade of the M4 Sherman and ended as the US Army's first operational "heavy" tank.
The first combat experience showed that the M26 still fell short on firepower and protection when facing the formidable German Tiger II.  Because of this, experiments were carried out with the longer and more powerful 90mm T15 gun.  The first vehicle, based on the first T26E1-1 vehicle, was shipped to Europe, where it was up-armoured and saw limited combat, being now commonly known as the "Super Pershing".  Another T26E4 prototype and 25 "serial" vehicles followed, with slight differences.
The M26A1 came into production after the war and most Pershing in service were upgraded to this standard.  It replaced the 90mm M3 with the new M3A1 gun, characterized by a more efficient bore evacuator and single-baffle muzzle brake.  A total of 1,190 M26A1s were produced and modified and saw action in Korea. 
The T26E2 was a close support variant of the M26 with a 105mm howitzer (74 rounds), and eventually standardized for use as the Medium Tank M45, 185 units were build.  A total of 2,212 units of all M26 variants were produced between November 1944 and October 1945.
Product Highlights:
- Choice to build as an M26, M26A1, or T26E4 with 90mm gun
- Also can be built as an M45 105mm howitzer medium tank
- Choice of either T81 or T80E1 track links
- Gun mantlet with or without canvas cover
- All hatches can be open or closed
- Tank commander for both WW2 and Korean War included
Product Code: 280116
Number of Parts: 122 pieces / 4 sprues