---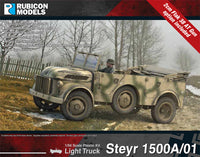 Production of the 1500A began in September 1941 by the Austrian company Steyr-Daimler-Puch.  Later on, Auto Union and Audi began to manufacture the 1500A as well.  The 1500A saw extensive use throughout World War II with various branches and formations in the Wehrmacht, including the Waffen-SS and the Afrika Korps.  Production ended after being cancelled in March 1944, by which time Steyr had produced some 12,450 vehicles with Auto Union and Audi some 5,600, a total of 18,050 vehicles, many of which stayed in service until the end of the war.
The 1500A was powered by an 85 hp, 8-cylinder air-cooled Steyr 3517cc OHV petrol engine, with a top speed of 90 km/h on roads, and 45 km/h cross-country.  The 1500A had a maximum range of 400 kilometers when travelling on roads, 280 kilometers when travelling cross-country, including a total fuel capacity of 100 liters.  
There were two main variants of the 1500A, the first being the 1500A/01, which was a troop carrier with bench seats fitting to the load bed.  This was ideal for transporting squads of troops (eight passengers).  The second variant was the command car version, designated the Kommandeurwagen Kfz 21 which could carry six.  It featured a radio transmitter, luxury interior and a fold-out roof.  There was also a light truck version requiring a crew of two.  Some of the light truck bodies were also modified and used as field ambulances.  The 1500A had no armor protection or armament, making it a non-combat vehicle.
The Steyr 1500A/01 with internal spare wheel was manufactured between September 1941 and August 1942.  From then onward, the spare wheel was moved outside of the car body.
Product Highlights:
- Two build choices for the 1500A/01
- Multi-slide mould engine hood & grille
- Optional MG34 with gun mount
- Doors can be open or closed
- With or without tarpaulin top
- Option to build a field-modified FLAK 38 auf Fahrgestell Steyr 1500A/01
- Driver figure included
Product Code: 280113
Number of Parts: 73 pieces / 2 sprues + 1 multi-slide mould cab