---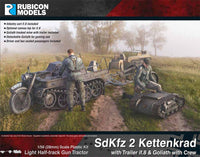 The
SdKfz 2 Kettenkrad
(plural Kettenkräder) started its life as a light tractor for airborne troops.  The vehicle was designed to be delivered by Junkers Ju 52 aircraft, though not by parachute.  The vehicle had the advantage of being the only gun tractor small enough to fit inside the hold of the Ju 52.
The first units equipped with the SdKfz 2 were not paratroopers but regular Wehrmacht infantry units, often scout detachments by the beginning of 1941.  Most Kettenkräder saw service on the Eastern Front, where they were used to lay communication cables, pull heavy loads and carry soldiers through the deep Russian mud.  Later in the war, Kettenkräder were used as runway tugs for aircraft in order to save aviation fuel.
The Kettenkrad was not armed, although they were sometimes used to carry an infantryman equipped with an MG34 or MG42 machine-gun, acting as a harassing vehicle.  The Kettenkrad was used by the Africa Korps, in Italy, France, in any weather and on all kind of terrains.  It was used often by Gebirgsjäger units (Alpine troops), or engaged against partisans throughout Europe, in the Balkans and in general all rugged or woody locations and mountainous regions.
The Kettenkrad came with a special trailer (if.8) that could be attached to improve its cargo capacity.  Being a tracked vehicle, the Kettenkrad could climb up to 24° in sand and even more on hard ground.  Production of the vehicle was stopped in 1944, at which time
8,345
had been built.  After the war, production resumed, around 550 Kettenkräder were built for agricultural use, with production ending in 1948.
The Goliath tracked mine was an unmanned disposable demolition vehicle used by the Wehrmacht during WW2. These were the electrically powered SdKfz 302 and the petrol-engine powered SdKfz 303.  They were known as "beetle tanks" to the Allies.  They carried 60 or 100 kilograms (130 or 220 lb) of high explosives depending on the model and were intended to be used for multiple purposes such as destroying tanks, disrupting dense infantry formations and the demolition of buildings or bridges.
Product Highlights:
- Infantry cart if.8 included
- Optional canvas top for if.8
- Goliath tracked mine with trailer included
- Detachable Goliath for gaming use
- Driver and two seated passengers included
Number of Parts:
54
pieces /
1
sprue +
2
figure sprues